After skiing, let's go to the hot tub !
Under the snowflakes, in the redness of the setting sun or simply after skiing all day, a hot tub session is so delightful that you quickly become addicted to it. As proof: at Hotel Belle-Plagne, those who book a day come back later… every day !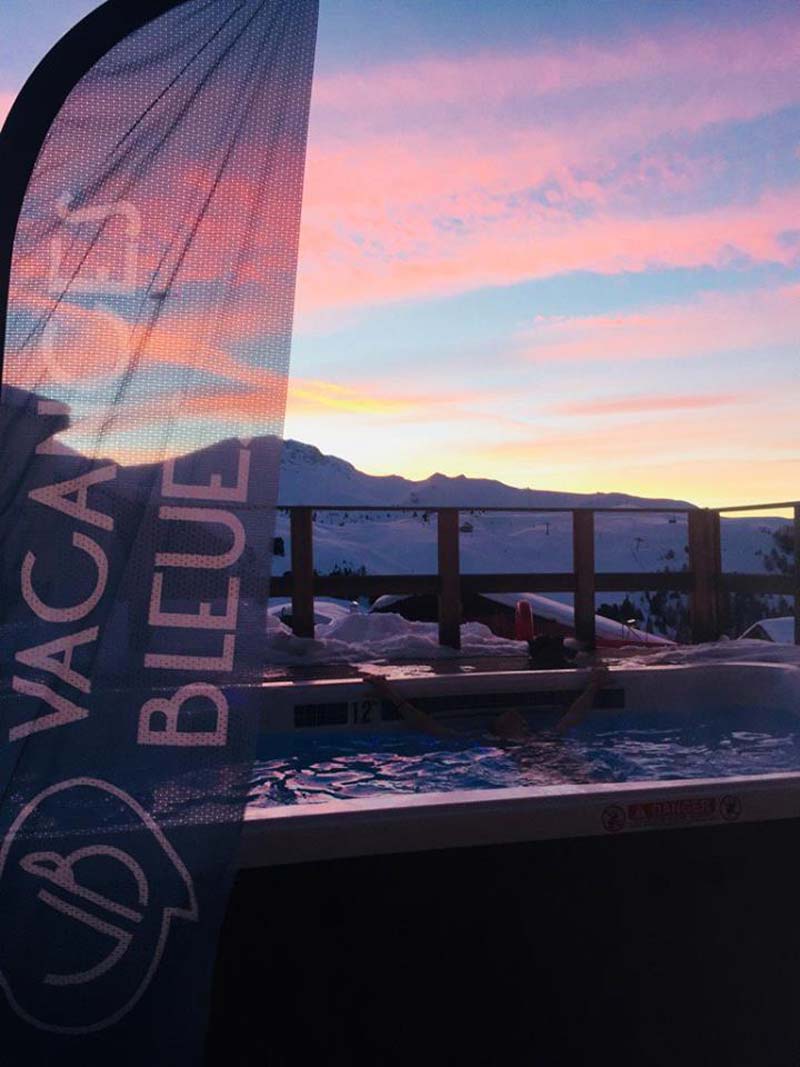 The navy blue sky contrasts sharply with the whiteness of the snow. The snow cover is already thick at the end of December. On the wooden terrace of the Hotel Belle-Plagne, animal skins cover the benches. A few meters away, a couple relaxes in whirlpools. Their smiling faces are perceptible through water vapour. The image is superb. A few moments before, they dropped off their ski equipment at the local after a full day on the slopes. Then they put on bathrobes and braved the cold to immerse themselves in a 40° bath.
Useful information

Privatization 30 min. on reservation
Bathrobe rental (5€)
Bring waterproof shoes
A revitalised bath at the Belle-Plagne Hotel
With their arms hung on the metal bars and their heads on the edge of the hot tub, their eyes range from the sky adorned with glowing trails to the crescent moon that shines, then to the mountain that offers itself as a spectacle. The dominant location of the terrace allows you to enjoy an exceptional view. The garlands of light that decorate the hotel add to the magical dimension.
After a few fathoms in the water corridor, the receptionist at the Belle-Plagne hotel turns on the hot tub lights and jets. The sky has darkened. In the pool, the light changes from red to blue to green… Enjoying the privacy offered to them by the possible privatization of the spa, skiers enjoy this rejuvenating bath.
The 5 benefits of hydromassage
Relaxes joints and gently massages muscles
Eliminates toxins
Activates the blood circulation
Improves sleep
Anti-cellulite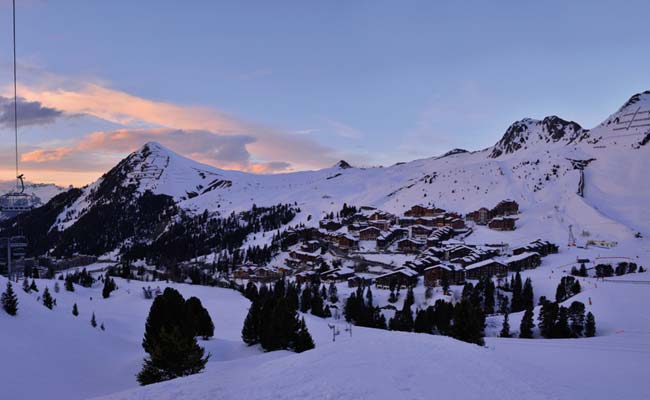 Braving the cold weather to enjoy the hot tub
After half an hour of massage, the happy couple gives way to a woman with her two children. Barely immersed in the pool, the youngest one exclaimed: "Daddy doesn't know what he's missing! That's so cool!!!!!". The next day, everyone repeats the experience, but under the flakes… This time, it's about getting barefoot in the snow before and after the hot tub!
« Dad doesn't know what he's missing!
That's so cool!!!!! »
Antoine, 9 years old
already a fan of hydromassages
The fitness club in La Plagne
In construction for 3 years, the wellness centre will reopen its doors for Christmas 2018. A 400 square meter space with an indoor swimming pool will be entirely dedicated to fitness. An offer that will naturally complement the one of the Belle-Plagne Hotel.